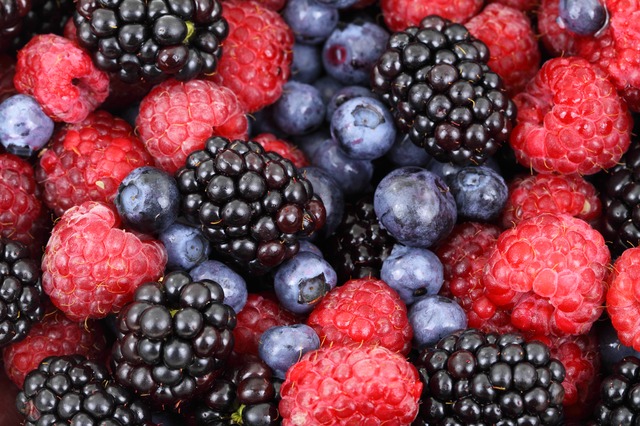 We all know that there are certain foods that our brain loves more than others. But by far the ultimate brain food is the decadently wonderful berry. It does not matter which one you choose from this family of nutrients as all berries have a powerful effect on the mind. They are loaded with polyphenols and antioxidants.
Blueberries, strawberries, raspberries, blackberries, and so forth. The list is actually quite long and if you have an opportunity to venture to different parts of the world you can enjoy unique and exotic berries like ligon-berries and cloud-berries known quite exclusively to regions of Scandinavia.
Brain Food for the Aging Mind
As we get older, damaged cells accumulate in the brain, which can lead to age-related diseases such as Alzheimer's and Parkinson's. That's where berries come in. Polyphenols, which give berries their deep-red or -blue hue, activate proteins that "clean up" damaged cells, breaking down and recycling the toxic chemicals linked to age-related mental decline, says study author Shibu Poulose, Ph.D., a molecular biologist with the U.S. Department of Agriculture's Human Nutrition Research Center on Aging in Boston. via Brain Health Center – Diet, Brain Food – AARP
Many people have the misconception that Alzheimer's is a part of natural aging. This in actuality could not be farther from the truth. We can age and still maintain our health to a certain degree. It all has to do with how we choose to live our lives. Eating right a huge part of that.
Amyloid plaque deposits and protein tau tangles are seen in patients with Alzheimer's disease. The prevalence of this disease is incredibly high and growing each year. According to the Alzheimer's Association, "one in eight older Americancs has Alzeimer's Disease…[it is] the sixth leading cause of death…[with] an estimated 5.4 million Americans of all ages [having the disease]…" (2012, Alzheimer's Disease Facts and Figures).
New research posits that eating berries regularly can help clear the protein tangles that exhibit frequently with many dementias as well as other chronic brain diseases. A research team from the Human Nutrition Research Center on Aging at Tufts University provides evidence to demonstrate how diets supplemented with blueberries and strawberries improve behavior and cognitive functions in a well established animal model known to parallel human metabolism. via Study finds berries clear amyloid brain tangles to help fight …
Berries the Ultimate Brain Food for the Whole Family
Berries are not only for the aging population, they provide benefit to people of all ages. They reduce inflammation in the body which has been linked to numerous disease including cancer. As well, their direct benefit to the brain is more preventative.
This superfood contains phytochemicals which help prevent cell damage. More importantly they contain a type of flavanoid (antioxidant) called anthocyanidins, which can transfer from the blood stream to the brain. Anthocyanidins transfer more greatly in the hippocampus, which is the learning and memory center of the brian. These flavanoids help prevent aging of the brian cells by fighting inflammation and oxidation. via Berry Brain Food! – RealFit Gym's Blog – Highland Park, IL Patch
The great thing about berries is how easy they are to consume. You can eat them just as is, add a little whipped cream or milk, or throw them in the blender to make a great smoothie. Because they taste so good it makes them easy to enjoy.
Berries are undeniably delicious, but they're also delicate and easy to let deteriorate in the back of the fridge. Letting this happen is a shame not only because it's wasted food, but also because it's wasted food that happens to be good for you — and for your brain in particular. via Boosting Brain Health, One Berry at a Time – Food52
Final Comments About Berries as Brain Food
Preventing memory loss and cellular damage, as well as protecting our brains should be a priority for everyone. This is done through eating foods that decrease inflammation and oxidative stress on our bodies. Berries are the ultimate brain food source to take on this challenge. So if it is a blueberry, strawberry, or raspberry that tickles your fancy make sure to add this wonderful food to your daily menu.
References
Alzheimer's Assoication. (2012). Alzheimer's Disease Facts and Figures, Alzheimer's and Demential, Volume 8, Issue 2. http://www.alz.org/downloads/facts_figures_2012.pdf
Public domain image from Pixabay

Subscribe To Our Newsletter
Join our mailing list to receive the latest news and updates from our team.