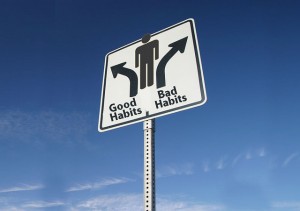 Scientists who study the brain have discovered that all habits reside in a special group of brain nuclei known as the basal ganglia. It is here that we can begin to examine how habits are formed in the brain. What makes this news so interesting is that so many of us believe that we can create new habits and drop old ones simply by tapping into a little bit of will power and motivation. However, this could not be further from the truth. In fact,  creating a new habit or eliminating a bad one involves much more than just the decision to do so. Habits are literally rooted in the brain requiring a significant amount of focus, repetitive effort, and reward in order to make any kind of lasting changes.
How Habits Are Formed Has Little To Do With Motivation Or Willpower
How habits are formed in the brain has very little to do with motivation or willpower. Just think about how many times you have tried to develop a new habit, such as a regular exercise routine to only be let down. Or better yet, how many times have you become frustrated at your lack of willpower in establishing a new habit. If you've ever tried to overcome a bad habit– such as smoking tobacco or even biting your fingernails, then you know that regardless of how sincere you are in wanting to overcome bad habits, erasing them is a lot easier said than done.
No matter how motivated you are to create a new habit or eliminate an old one, motivation by itself will not get you very far. Mainly, this is because when your motivation wanes, you rely more on willpower. But no one has an endless supply of willpower. It's a resource that gets "used up". Every time you will yourself do something you don't really want to do, you use up some willpower. Every temptation you pass up depletes your willpower reserve. By evening, you may find you have no willpower left. That's why most people blow their diet in the evening after eating healthy all day. via How to Trick Your Brain to Create a New Healthy Habit | Pick the Brain
Creating a Habit Loop
In order to successfully rewire the brain to create a new habit we must begin with understanding how habits are formed. Essentially, there are three important elements that are needed. First, there must be a cue or a trigger that is then followed by an action or routine and  lastly some sort of a reward. Habits do not begin or end here, however. The brain must literally be trained to anticipate the reward once a cue is recognized in order for a new habit to be formed. Therefore, how habits are formed is much more about repetition and pattern sequences than it is about will or motivation.
To understand how this habit loop works, consider an example of a cigarette smoker who craves a cigarette after a hearty meal. The full sensation after a meal may be the cue, puffing a lit cigarette is then the routine and the reward might be the sense of satisfaction experienced after the cigarette has been smoked. It is only when the brain begins to anticipate the reward (relaxation) and then the moment it recognizes the cue (full stomach) that a habit is formed. In this example you can see exactly how habits are formed, the smoker's brain has created a powerful craving that is triggered by certain events and this craving will not go away until it is satisfied.
Hacking the Brain to Create New Habits
That's why it's important to hack your brain into helping you build these goals into new habits. Pick the Brain has some great suggestions for you to start tricking yourself into developing a new habit, starting with setting small goals. Rather than saying, "I'm going to run every night," tell yourself, "I'm going to run every night this week." Next, try using triggers. For example, if you want to brush your teeth after lunch every day, program yourself to start doing so right before you head back to work, or just after you finish the drink you enjoy with lunch. via Tricking Your Brain Into Creating a New Habit | Lifehack
Using triggers to precede an action you'd like to turn into a habit is just part of the process of how habits are formed. Remember that a reward is needed in order for the brain to begin craving an activity after recognizing its cue. In short, a cue, an activity and a reward must be bundled together in order for the brain to be altered into forming a habit.
Brain Cravings and How Habits Are Formed
This, scientists say, is how habits emerge, and why they are so powerful: they create neurological cravings. Most of the time, these cravings emerge so gradually that we're not really aware they exist. But as our brains start to associate certain cues (a doughnut box!) with certain rewards (yummy jelly!), a subconscious craving emerges. And so whenever we see the Dunkin' Donuts container in the break room we start craving a donut—even if, just moments before, we weren't hungry at all. via The Power of Habit: How the history of toothpaste explains why you can't lose weight | Slate
Programming the Brain For a Better Future
Also known as the basal nuclei, the basal ganglia are the brain's control centers for routine actions that we perform without much thought at all, such as eye movements. With the knowledge that these nuclei can be programmed to accommodate new controls, scientists are looking forward to this information being useful in changing lives especially when it comes to understanding how habits are formed in the brain. In his book, The Power of Habit: Why We Do What We Do In Life, journalist Charles Duhigg outlines how scientists came to discover the habit "loop" and relays real life examples of people who have used this loop to improve the quality of their lives.
Duhigg is optimistic about how we can put the science to use. "Once you understand that habits can change," he concludes, "you have the freedom — and the responsibility — to remake them. Once you understand that habits can be rebuilt, the power becomes easier to grasp, and the only option left is to get to work." He also suggests that by understanding the nature of habits we can influence group behavior, turning companies into profit makers and ensuring the success of social movements. via The Power of Habit Sunday Book Review | The New York Times
 Closing Comments About How Habits Are Formed
The most important thing to remember about how habits are formed is that they require time and effort. Even if you want something to happen that does not necessarily mean that your will power alone can make it do so. In order to rewire your brain it requires repetition over time that involves the key elements of a trigger, action, and reward. So the next time you feel bad about that late night piece of cake or missing your workout don't forget its not will power that must change, but a set pattern in the brain.

Subscribe To Our Newsletter
Join our mailing list to receive the latest news and updates from our team.